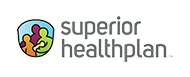 Superior Healthplan
Superior HealthPlan has a commitment to improving the health of the community one individual at a time through affordable and reliable healthcare plans. We have an approach to healthcare in Texas that can meet the needs of each person we serve.
Superior HealthPlan is a managed care organization that provides health care to 2 million Texas residents. We began in El Paso in 1999 and now have 3,000 employees who support members in all 254 counties across the state.
Superior works with Texas Health and Human Services (HHS) to offer STAR (Medicaid), Children's Health Insurance Program (CHIP), STAR+PLUS, STAR Kids, and STAR Health. Since 2008, we have been the exclusive provider of STAR Health, which supports children and youth in foster care. Additionally, we offer Medicare coverage as well as Ambetter from Superior HealthPlan, our product on the Health Insurance Marketplace.
Since 2015, Superior HealthPlan has been one of the top-rated Medicaid plans in Texas, earning a rating of 3.5 or higher on a 5.0 scale on the National Committee for Quality Assurance (NCQA) Medicaid Health Insurance Plan Ratings. This includes a rating of 3.5 for 2022. Additionally, Superior has maintained the NCQA Distinction in Multicultural Health Care since 2019, earned by organizations that excel in providing culturally and linguistically sensitive services while working to reduce health-care disparities.