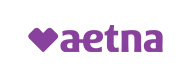 Aetna
Aetna Inc. is an American managed health care company that sells traditional and consumer directed health care insurance and related services, such as medical, pharmaceutical, dental, behavioral health, long-term care, and disability plans, primarily through employer-paid (fully or partly) insurance and benefit programs, and through Medicare.[4] Since November 28, 2018, the company has been a subsidiary of CVS Health. 
The company's network includes 22.1 million medical members, 12.7 million dental members, 13.1 million pharmacy benefit management services members, 1.2 million health-care professionals, over 690,000 primary care doctors and specialists, and over 5,700 hospitals.
Aetna is descended from Aetna (Fire) Insurance Company of Hartford, Connecticut. The name of the company is based on Mount Etna, at the time the most active volcano in Europe.