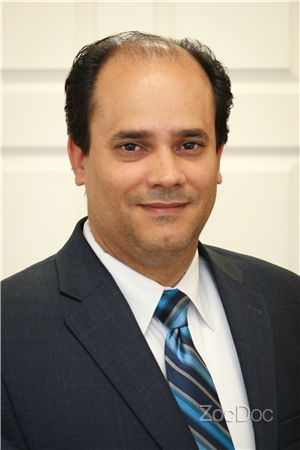 Dr. Ricardo Espaillat
Psychiatrist
5511 SW 8 Street,Miami, FL
In-person Visits
Video Visits
Voice call
Advised line
Accepting new patients
New patient appointments available
Highly recommended
96% of patients gave this doctor 5 stars
Excellent wait time
95% of patients waited less than 30 minutes
Great bedside manner
98% of patients rated bedside manner 5 stars
About Dr. Ricardo Espaillat
Ricardo K. Espaillat, M.D. is a Fellow of the American Psychiatric Association; certified by the American Board of Psychiatry and Neurology in the area of General Psychiatry, Child and Adolescent Psychiatry, and Psychosomatic Medicine (Consultation & Liaison). He is board certified in Behavioral Neurology and Neuropsychiatry by the United Council for Neurologic Subspecialties, and board certified in advanced Clinical Psychopharmacology by the American Society of Clinical Psychopharmacology. rnrnHe attended the medical school at the Technological Institute of Santo Domingo (INTEC) where he graduated with the highest honor (Summa Cum Laude), and completed his psychiatry residency training at New York Medical College, Lincoln Medical and Mental Health Center. Dr. Espaillat also completed a fellowship in Child and Adolescent Psychiatry at Long Island Jewish Medical Center, Albert Einstein College of Medicine as well as a fellowship in Neuropsychiatry at the University of Illinois at Chicago College of Medicine. rnrnDr. Espaillat's areas of expertise include ADHD, Tics and Tourettes, PANDAS, Eating Disorders, and PDD (including Autism and Asperger). He is currently involved in a research paper about the role of some neurohormones in the development of ADHD symptoms. Dr. Espaillat has vast clinical experience in psychiatry and neuropsychiatry, participating as a staff member at very prestigious hospitals and mental health centers in NY, NJ, Chicago, and Florida. He established his own institute of neuroscience in Santo Domingo, Dominican Republic, where he also worked as the EAP Director of the Drug Program for Major League Baseball. rnrnDr. Espaillat was listed in the 2007 and 2008 Editions of the Guide to America's Top Psychiatrist from the Consumers Research Council of America.
In-network insurances
All providers on docDit are required to accurately list in-network plans. If any coverage issues occur, our Service team will help advocate for you with the provider.
99% of patients have successfully booked with these insurances



Anthem Blue Cross Blue Shield

Arkansas Blue Cross Blue Shield




Education and background
Board certifications
American Board Of Psychiatry And Neurology
Child & Adolescent Psychiatry (Psychiatry And Neurology)
Psychiatry (Psychiatry And Neurology)
Education and training
Medical School Instituto Tecnolu00F3gico De Santo Domingo (INTEC) Facultad De Ciencias De La Salud
New York Medical College, Lincoln Medical And Mental Health Center, Residency In Psychiatry
Long Island Jewish Medical Center, Fellowship In Child And Adolescent Psychiatry
University Of Illinois, Chicago, Fellowship In Neuropsychiatry
Book An Appointment For Free
Morning
Afternoon
Evening
Night
Morning
Afternoon
Evening
Night
Morning
Afternoon
Evening
Night
Morning
Afternoon
Evening
Night
Morning
Afternoon
Evening
Night
Morning
Afternoon
Evening
Night
Morning
Afternoon
Evening
Night
Morning
Afternoon
Evening
Night
Morning
Afternoon
Evening
Night
Morning
Afternoon
Evening
Night