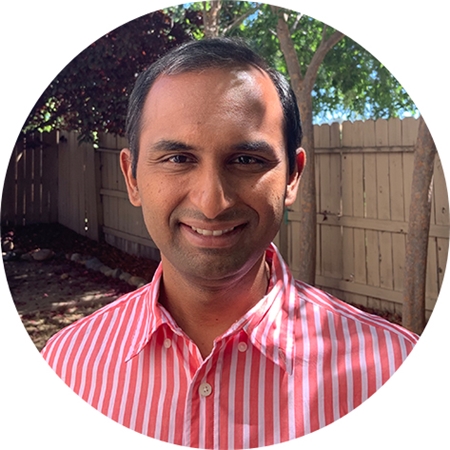 Dr. Krishna Bezwada
Psychiatrist
350 University Ave,Sacramento, CA
In-person Visits
Video Visits
Voice call
Advised line
Accepting new patients
New patient appointments available
Highly recommended
96% of patients gave this doctor 5 stars
Excellent wait time
95% of patients waited less than 30 minutes
Great bedside manner
98% of patients rated bedside manner 5 stars
About Dr. Krishna Bezwada
Dr. Bezwada is a Board-Certified Psychiatrist whose areas of focus include depression, mood disorders, anxiety disorders, and substance abuse. He has over ten years of experience treating patients. He has always excelled at treating the more challenging patients who may have dual diagnoses. rnrnHe comes from a long line of doctors in his family, and while always knowing he would likely pursue medicine, Psychiatry connected with him following medical school. He had been intrigued by brain disorders and knew that the brain was the most powerful organ in the body. He strongly believed that our thoughts influence our lives, and that this was an important and interesting component of our lives. An externship in Psychiatry strengthened his interest and soon after, he began his Psychiatry Residency. rnrnDr. Bezwada has a flexible, amenable style with patients. Forming an excellent therapeutic relationship with the patient is of utmost importance to him. He spends time with patients to listen to them and educate them on the potential treatment plans. He provides guidance to patients to achieve their goals. rnrnHaving treating patients with Electro Convulsive Therapy (ECT) for years and recognizing the promising recovery and remission rates with neuro stimulation, Dr. Bezwada is pleased to integrate Transcranial Magnetic Stimulation (TMS) into his patient care. TMS may help patients who have not found relief from medications alone and has minimal to no side effects.
In-network insurances
All providers on docDit are required to accurately list in-network plans. If any coverage issues occur, our Service team will help advocate for you with the provider.
99% of patients have successfully booked with these insurances




Anthem Blue Cross Blue Shield

Arkansas Blue Cross Blue Shield


Blue Cross Blue Shield Federal Employee Program

Blue Cross Blue Shield of Alabama
Education and background
Education and training
Medical School People's Friendship University Of Russia Faculty Of Medicine
Virginia Commonwealth University, Residency In Psychiatry
Book An Appointment For Free
Morning
Afternoon
Evening
Night
Morning
Afternoon
Evening
Night
Morning
Afternoon
Evening
Night
Morning
Afternoon
Evening
Night
Morning
Afternoon
Evening
Night
Morning
Afternoon
Evening
Night
Morning
Afternoon
Evening
Night
Morning
Afternoon
Evening
Night
Morning
Afternoon
Evening
Night
Morning
Afternoon
Evening
Night